OUR STAFF
CHRIS FLAHERTY
Chris has been a diver longer than he wasn't a diver! He got his certification back in the 1900's and started working at Skipper's Diving in high school. Chris earned his SSI Dive Control Specialist at 18 and completed his Open Water Instructor in 1995. Shortly thereafter, he joined the staff at Deep South Scuba. Chris strives to learn as much about the sport as possible to be able to pass it on to his students. His experience covers three decades of sport, technical and public safety diving. Chris is also one of our trained service technicians.
---
JAY LEDBETTER
Jay is an Advanced Open Water instructor and Silver 300 Instructor with SSI. He has over 30 years diving experience with 20 of those as an instructor. Jay served for 3 years as one of two Team Leaders for the Madison County Sheriff's Office 35-man Dive Rescue Team. He is a certified Public Safety Diver and Dive Rescue Specialist.
Jay is a Nationally Registered Emergency Medical Technician and a Registered Diver Medic Technician. He is a Divers Alert Network Instructor, American Heart Association Instructor, National Safety Council Instructor and has been a Deep Water Wave Pool Lifeguard Instructor with the National Aquatic Safety Company. Jay is an American Red Cross Aquatic Instructor Trainer/Certifier and helped develop and author their current Lifeguard Management course. He also serves on the Aquatic Staff at BSA National Camp School certifying Aquatic Instructors.
While serving as Executive Director for the Mississippi Office of Homeland Security he helped fund, train and equip over 40 Dive Rescue Teams across the state. His office funded, organized and equipped 3 Swift Water Boat Rescue Teams for use during natural disasters. He is also a certified Agro-Terrorism Master Trainer and a certified instructor in Incident Response to Terrorist Bombings.
Jay is retired law enforcement with 34 years service and currently serves as Policy Advisor to Governor Phil Bryant.
---
TIM SLATTERY
Tim (aka Mr. Metric) began his diving career in 1991 while living in Basel, Switzerland, diving in Swiss lakes and in the south of France in the Mediterranean Sea. This certification was with the British Sub-Aqua Club (BSAC) and was taught using the Metric System, giving rise to the nickname above, when he returned to the US in 1992. After moving to Mississippi, Tim earned his instructor rating with the International Diving Educators Association (IDEA) in September 1993, and crossed over to Scuba Schools International (SSI) in June of 2001. He earned recognition as a Century Instructor in July of 2012. Tim is also one of our trained service technicians.
---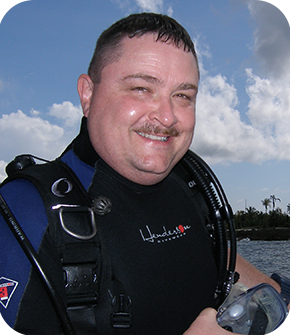 KEN GOWER
---
CRAIG MOONEY
---
ROB BLAINE
Rob earned his open water certification with Deep South Scuba in 2000. As with many divers, he fell in love with the sport deciding he would learn as much as possible. With a deep appreciation of the beauty below, and a photographer's eye, Rob has many accomplishments to his credit, including national publication on the work he took on the USS Oriskany. Rob was certified as a Dive Control Specialist in 2007. After 3 years, he wanted to take the plunge and earned his Open Water Instructor in November 2010. Since then, Rob has continued his education and earned numerous Specialty Instructor ratings. When Rob is not working or teaching classes, he is always looking forward to his next dive!
---
BAINE SMITH
Baine Smith is a SSI Dive Control Specialist and a recent addition to the Deep South Scuba team from Madison. He started his diving adventure while in the Bahamas in June 2000 with a try scuba course. After a few years of recreational diving, Baine decided to take his love for diving to new depths. When he's not traveling for work, you'll find him either assisting with one of our classes or slipping off on a dive trip.
For Baine, the best part about diving is spending time with his family, the people he meets, the underwater life and the silence of the underwater world.
---
MATT ROLLER
Matt's first introduction to the world's oceans was as a United States Navy submarine sailor. While this was not to be a life career, he found he missed the oceans and would vacation anywhere there was sand and open water. Matt first experienced scuba diving in 2007 on a PADI Discover Scuba dive in the U.S. Virgin Islands while vacationing. The experience of the sport and exploring the underwater world drove him to want his own "C-Card". By early 2008, he was certified through Deep South Scuba as an SSI Open Water diver and he hasn't stopped his education, or pursuing the sport. Today, Matt is a certified SSI Dive Control Specialist working with Deep South Scuba to promote the sport and help others realize the thrill of exploring the depths. Matt continues to expand his knowledge of the sport and is currently working towards a SDI Solo Diver Certification.
---
RICKY BRYANT
Ricky's path to become a Dive Control Specialist with SSI started at a boy scout camp in 1984. Some of the staff talked about scuba diving and how much fun it would be. After some research, Skipper's Dive Shop in Jackson was found and they started their open water class and pool work. Soon after, Ricky and friends completed their open water certification in Pensacola, Florida. After several dive trips, Ricky joined the Marine Corps in 1986 and was stationed in California then in Okinawa, Japan. He kept diving and got to enjoy the west coast waters and waters in Okinawa, Japan. In 2011, Ricky moved back to Mississippi and found a new dive buddy, his sister. After taking a refresher course, Ricky fell in love with diving all over again and hasn't stopped. He is looking to further his knowledge and experience with scuba diving by continuing his scuba diving education. Ricky's goal is to share his knowledge with others to help them gain their own love for the adventure called Scuba Diving!
---
DWIGHT HARDING
Dwight Harding has been a dentist in Starkville, MS since 1983 and is one of only a few dentists in Mississippi to hold a Master level in the Academy of General Dentistry with continuing emphasis in full mouth restoration, cosmetic dentistry and smile design. Doc's claim to fame is his smile restoration for 2005's Miss Alabama who won the title of Miss America. In his dental clinic, Dwight mentors pre-dental students, not only in general dentistry procedures, but in all aspects of managing a private dental practice. In addition to his dental practice, Doc is a licensed contractor and has built and remodeled numerous apartment and condo structures in the Starkville area. Even though he lives in Starkville, home of the MSU Bulldogs, he is well known for giving away his season football and baseball tickets whenever game day conflicts with a dive!
While at Starkville's gym in 2008, he noticed a sign for scuba classes and signed up. The gym owner became a great friend as well as his scuba instructor and Doc continued his diving adventures with numerous trips to Orange Beach, Alabama; Panama City Beach, Florida and Outer Banks, North Carolina. He received his Altitude Diver certification while braving the cold waters of Lake Tahoe, Nevada! Before 2008 was out, Doc had attained Dive Master. His love for teaching others drove him to pursue Assistant Instructor, then on to Instructor training where he attained his PADI Instructor in 2014. In 2015, Doc completed his cross-over training as an SSI instructor with Deep South Scuba, becoming one of only a handful of area instructors available for SSI or PADI certification of students. Dwight's focus is teaching scuba students how to safely build skills as they discover the love of diving and explore the exciting adventures under the sea!
---
BRUCE PAGE
Bruce Page began his pursuit of diving in 1990 in an effort to form a public safety dive team in Pass Christian, MS. As a Public Safety Diver and Dive Rescue specialist he spent the first ten years of diving serving the residents of the Mississippi Gulf Coast. With a lifelong commitment to training and education, Bruce served as an Instructor for the Mississippi State Fire Academy. He began his role as a Public Safety Dive Instructor and Corporate Trainer for Dive Rescue International in 2010. In 2012, Bruce joined Deep South Scuba's arsenal of Open Water Instructors with Scuba Schools International. Bruce is an instructor for Ridgeland Fire Department Dive Team.