GEAR
The links below will take you to our most popular scuba equipment lines. You can browse their site and see what is available at your convenience. Afterwards, we hope you will come by and let us answer any questions you might have and help you make an informed decision on what is right for you. We will make sure you are fitted properly and are comfortable with what you choose.
These are our main equipment lines, however if you are interested in a line you do not see listed below, please ask! We carry scuba gear by many manufacturers, but only have so much floor space.
After years of diving with different gear and servicing all brands, we are confident you will be happy with any equipment line listed below.
Hope to hear from you soon!
www.scubapro.com
www.oceantechnologysystems.com
Ocean Technology Systems is the Leader in State-of-the-Art Underwater Communication Systems servicing the Sport, Commercial, Movie Industry, Search and Rescue and Military communities around the world! We do not keep these in stock, but will be glad to order and service for you.
www.ansell.com
Viking Dry Suits
www.oceanicworldwide.com
www.mares.com
www.hendersonusa.com
www.pelican.com
www.uwkinetics.com
www.sealife-cameras.com
www.luminox.com
www.jblspearguns.com
www.seacure1.com
www.chammyz.com
www.stahlsac.com
www.polarbearcoolers.com
---
Sales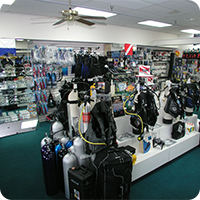 We are a full service dealer for all of diving's top brands, including Scubapro, Oceanic, Mares, Uwatec, Ansell (Viking Dry Suits, Ocean Technology Systems (State-of-the-Art Underwater Communication Systems), and more. What this means to you — when you purchase equipment from us, you can be confident the manufacturer will recognize and honor the warranty. We maintain as much inventory, as space allows, of the items divers want and need most, and can obtain many more through special order. Our goal is 100% Customer Satisfaction!
---
Rental Equipment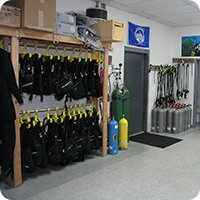 For those who don't own their own equipment, we have rental equipment to suit most all diver needs, including wetsuits, dive computers, and more. Every dollar you spend on rental (keep up with those tickets!), goes towards the purchase of new equipment — that is a deal that is hard to beat!
---
Equipment Service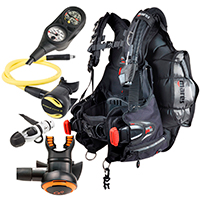 We service and repair all major brands of dive equipment. Don't forget to have your gear serviced annually.