MEDICAL STATEMENT FORM
Before participating in scuba certification class, you will need to complete and sign the standard RSTC Medical History form. You can download a copy of this form, in Adobe Acrobat Portable Document Format (PDF), using the link on the right.
Be aware that the attorneys who designed this form were especially picky about how you complete it. In particular:
You must physically write out the words YES or NO to each and every question.
You cannot simply put a Y or an N, or use checkmarks or Xs.
In other words: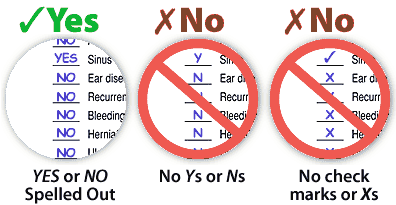 Make Your Life Easy: By far the fastest and best way to complete this form is to save it to your computer or tablet and then re-open it in either Adobe Acrobat or the free Acrobat Reader app (and not your web browser or some third-party PDF reader). Acrobat will allow you to complete and save the form on screen — it will even allow you to answer those tedious Yes/No questions from a dropdown menu. The result will be a form that is easier to complete and vastly more legible.
If possible, print the form on the front and back of a single sheet of paper. Be sure to fill out the contact information on the top half of the back. Assuming you can honestly answer NO to all of the questions, bring the signed form with you to class.
What if I have to answer YES? Don't panic. It just means that you have a condition that requires a physician's approval prior to taking part in any in-water activities. Here is what you do:
Assuming your physician is okay with you diving (which is generally the case), he or she can sign the form where indicated on the back. Bring the signed form with you when you arrive for class.
This is Important: You must either bring:
The medical statement form with a NO to all questions, or ...
The same form with one or more YESs — but signed by your physician.
Without this you will not be allowed to participate. No exceptions.