COOL GEAR & APPAREL
POLAR BEAR COOLERS

Leak Proof, Sweat Proof, Tough and Rugged, Soft Side and BUILT TO LAST!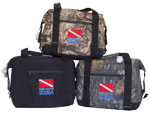 GET THE WORLD'S MOST VERSATILE COOLER EMBROIDERED WITH DEEP SOUTH SCUBA LOGO!
Available in 12 and 24 can capacity in Black, Mossy Oak Duck Blind and Mossy Oak Break Up. Click on image at right for larger view.
We have used this cooler in Bonaire and you won't believe how long it keeps ice! Cooler will fold flat so you can put in your checked bag and pull out when you get to your destination. Not only can it be used for beverages, it can be used to keep things hot or frozen ... you can put water in it on a small boat and keep your camera in it between dives to protect it ... great cooler for hunters ....
More than just a cooler, the Polar Bear is an all-purpose, high tech, bi-polar, portable insulation system. The Polar Bear will keep ice for 24 hours in 100-degree heat and will withstand boiling water without damage. When it has to stay hot or needs to stay cold, Polar Bear is the brand that performs. Leak Proof / Sweat Proof, Satisfaction guaranteed!
Exceptional quality inside and out. The Polar Bear's leak proof / sweat proof design is tough, rugged and built to last. The heavy-duty outer shell is comprised of 1000 denier Cordura nylon and high-density open cell foam. The PBC will not mold or mildew and is washable in soap and water.
Nothing keeps cool like a Polar Bear! The Polar Bear's Dura-Temp liner, and air trap design keeps ice for at least 24 hours in 100 degree heat and will withstand boiling water without damage. The Dura-Temp liner is leak proof, puncture resistant, and pulls inside out for easy cleaning.
The Polar Bear fits about anywhere and when not in use packs away nicely. Product carries a one-year warranty against manufacture defects. We are confident you will enjoy years of performance from your Polar Bear.
---
LUMINOX WATCHES
Deep South Scuba has extended its selection of Luminox watches!

All Luminox watches must undergo additional manufacturing steps that other watches do not require. The Luminox self-powered illumination system must be installed into each and every watch. It is a costly and time consuming endeavor but it is what makes Luminox watches special. Each watch employs tiny self-powered micro gas lights developed by the world leader in the luminous compound industry. These micro gas lights (borosilicate glass capsules) are installed into the hands, hour markers, and when necessary, bezels of our watches. Luminox watches need no external light source to "charge" the paint on the dial or hands in order to glow as do conventional luminous watches. Nor do they require the push of a button to light the dial as do watches with electroluminescence. The U.S. military has long recognized the advantages of micro gas light sources.
Luminox's self-powered illumination-Luminox Light Technology (LLT) allows one to view time-at-a-glance, no matter what the light level, even in complete darkness. This ease of being able to read time effortlessly seems to fill a need for various military and law enforcement groups.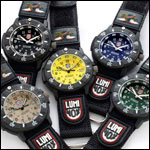 The U.S. Navy SEALs Procurement officers approached Luminox about creating dive watches for them for night missions, as well as the U.S. Air Force pilots flying the F-117 Nighthawk Stealth Jets.
These are only two of many groups of "heroes" that truly understand and appreciate the inherent benefit of wearing a Luminox timepiece.
Be sure and come by and see our selection!
---
GUY HARVEY APPAREL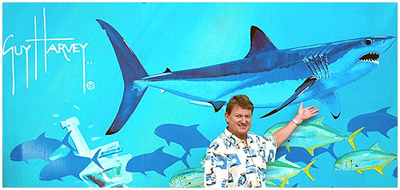 Come in and check out the new Guy Harvey T-Shirts, Caps, etc.! Guy Harvey is a unique blend of artist, scientist, diver, angler, conservationist and explorer, fiercely devoted to his family and his love of the sea, making his artist renditions of sealife outstanding!